Two days ago it started Cibeles and as always we'll have to Jezebel live covering the parades of the Fashion week in the Spanish capital. But for now, we still have many front-row looks quite memorable in the New York, as well as parades to do. And I think that unlike past post that looked more the bad thing about front-row styles, now I played extreme: some incredible and other incredible also, but in another sense.
Kate Bosworth was to the of Calvin Klein very cute and minimalist, like the designer Francisco Costa. The actress appeared with white shirt and brown leather skirt. It was gorgeous and even your hand type box blank bag was cute. In the same parade also was Naomi Watts. Another blonde with styles very neat as demonstrated with this dress straight colorazulado joined precious grey suede sandals.
Isabel Lucas I think it was that had a problem with the brush, because it did not find it anywhere. Something that desmereció his minimal outfit of jacket with a touch of leather in the elbow and skirt in black.
In Ralph Lauren We had a, along with David Lauren. The designer was very sober in a tobacco-coloured dress with stockings and accessories in black. But I think that most expected was to see to Jessica Biel in the front-row of William Rast, the signature of her boyfriend Justin Timberlake. The girl appeared very cute with jeans and black t-shirt, ivory-coloured leather jacket and a padded bag vintage of Chanel in tobacco-coloured. In addition, it was Anna Wintour with marbled Chanel wrap and a horrible Fox Fur scarf.
Yes last year Rachel Bilson It was the most notable of the front-row of Brian Reyes, this year no doubt the girl it is Jessica Stroup. With his hair cutting and his youthful style, the Stroup I love more each day. She was going from it more vernal with a dress in white and turquoise with bubbles print.
Alexa Chung It has no program on MTV, but I think that it still like living in New York and more now that it is time for gateways. The hostess chose the parade of Phillip Lim to make your own with an alternative look and your bag Mulberry Alexa, now in version of skin of Giraffe print. He also appeared there Irina Lazareanu, who chose a dress tuxedo ball type disc, patent leather leggings and black shoes. There is no doubt that this girl will not be like Kate Moss, but holds its own.
And at the end, but not without a little pain in the eyes, we have to Kelly Osbourne and her look of Pebbles. Orange dress with black spots, cut into peaks in the ring and a shoulder. Hair blonde seventies (could be wig?) with mono and up to the peep – toe's with bone included. This girl is and continues to speak, but I think that this time did so by support to Jeremy Scott with her friend Peaches Geldof.
Gallery
Jessica Szohr, Rachel Zoe, Kelly Osbourne, Olivia Palermo …
Source: www.popsugar.com.au
Carine Roitfeld
Source: www.contactmusic.com
Tim Gunn Pictures – Around Lincoln Center Day 3
Source: www.zimbio.com
Dennis Basso Pictures – Dennis Basso – Runway
Source: www.zimbio.com
James Cook Celebrity Photos et images de collection …
Source: www.gettyimages.fr
Clemence Poesy 2012 Pictures, Photos & Images
Source: www.zimbio.com
Jessica Szohr, Rachel Zoe, Kelly Osbourne, Olivia Palermo …
Source: www.popsugar.com.au
Carine Roitfeld
Source: www.contactmusic.com
Tim Gunn Pictures – Around Lincoln Center Day 3
Source: www.zimbio.com
Dennis Basso Pictures – Dennis Basso – Runway
Source: www.zimbio.com
James Cook Celebrity Photos et images de collection …
Source: www.gettyimages.fr
Clemence Poesy 2012 Pictures, Photos & Images
Source: www.zimbio.com
Carine Roitfeld
Source: www.contactmusic.net
Carmen Kass Stock Photos and Pictures
Source: www.gettyimages.ca
James Cook Celebrity Photos et images de collection …
Source: www.gettyimages.fr
Heidi Middleton Stock Photos and Pictures
Source: www.gettyimages.ca
Tavi Gevinson blogger best style & fashion looks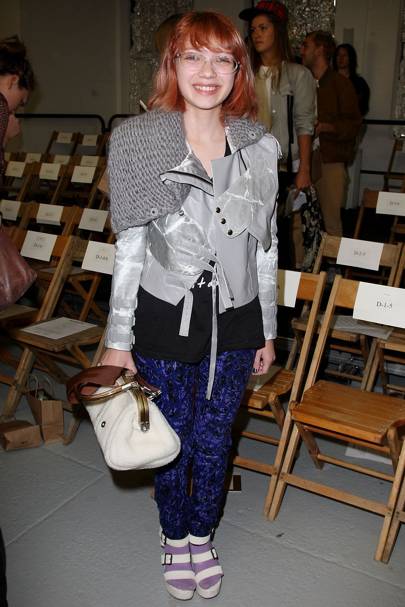 Source: www.glamourmagazine.co.uk
Mr Hudson Stock Photos and Pictures
Source: www.gettyimages.com.au
Beverly Johnson Pictures – Venexia – Front Row
Source: www.zimbio.com
Marc Rodriguez Stock Photos and Pictures
Source: www.gettyimages.co.uk